High-quality and massive version in popular Billiard-Royal®Quality:
The upper pages are equipped with a special plastic which protects against scratches, liquids and cigarette burns for a short time.

extreme Quiet ball return system (Plastic-sheathed metal jewels)

our pool- billiard table is made fromsolid beech woodfabricated
playing surfacefrom 3-piecenatural slate(30 mm thickness) - the billiard table can be easily set up even in difficult to access places due to the three-part division

Playing surface in tournament dimensions:224 cm x 112 cm (8 ft. playing surface)

external dimensions: (L/W/H) approx. 260 cm x 145 cm x 80 cm (height adjustable feet)

High-quality, durableBands / K 55 Rubber(already covered with the billiard cloth in the colour of your choice)

when ordering the table without cloth you can cover the table yourself with a billiard cloth of your choice.

Diamonds (circles)

total weightapprox. 430 kg

Color: Black

play cloth

Choose your colour freely from our different cloths:

Standard from Billiard-Royal consisting of 65 % wool and 35 % polyester with a weight of 370g/m².

ES 45 from Eurospeed consisting of 45 % Australian wool and 55 % polyester with a weight of 385g/m².

ES 70 by Eurospeed consisting of 70 % wool and 30 % nylon with a weight of 370g/m².

Scope of delivery: Billiard table without accessories
Our Billiard-Royal billiard table Gladiator is made of solid beech wood. The surface of the table is protected against dirt and even briefly against cigarette burns. The ball return system is extremely quiet thanks to its plastic cover. Through its slate plate and cloth, the balls run fast and straight. So the game is fun for beginners and professionals alike. The bands are already covered in the corresponding cloth colour and made of high-quality K-55 rubber. This makes them particularly durable. At the top of the table there are diamonds (diamonds) made of mother-of-pearl. A very nice detail, as we find. You can freely choose the billiard cloth. The total weight of the solid table is 430 kg. Thanks to the assembly instructions, it is also possible for the interested and technically gifted layman to assemble the table with commercially available tools.
The dimensions of our billiard table correspond to the tournament standards
Easy to set up thanks to detailed instructions.
Despite the solid (solid wood) construction and the high-quality slate plates, the assembly of 2 persons with household tools (fork wrench / screwdriver or tacker) can be carried out without problems.
Billiard table Gladiator Black 8 ft.
---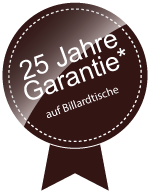 ${ $store.getters.currentItemVariation.variation.availability.names.name }
Finanzierung ab 224,92 € im Monat mit
---