Hochwertigeund massiveAusführungin popular billiard Royal ®
our pool billiard table is made of solid beechwood

playing surface (30 mm thickness) - by the tripartite division of the pool table is easily set up even in hard-to-reach areas

play field in tournament Dimensions: : ca.254 cm x 140 cm x 82 cm (L / B / H)

Ballauffangtaschenaus leather (already with demBilliardtuch in the color you chose Based)

when ordering desTisches without cloth can string it Siesich the table even with a Billiard cloth your choice

diamonds (diamonds) from . pearl ca. 420 kg

baize

Select your cloth color free from our different tissues:

Standard consisting of 65% wool and 35% polyester having a weight of 370g / m

ES 45 of Euro Speed ??consisting of billiard Royal from 45% Australian wool and 55% polyester having a weight of 385g / m

ES 70 of euro speed consisting of 70% wool and 30% nylon with a weight of 370g / m
included: pool table without accessories
Accessories for Billiards Magdalena:
3-piece cover < / li>
Our Billiard Royal billiard table Magdalena is made of solid beech wood. With its slate and the cloth the balls run fast and straight forward. So the game for beginners and professionals alike makes fun. The bands are already occupied in the corresponding cloth color and high-quality K-55 rubber. This makes them particularly durable. Diamonds are (diamonds) of nacre at the top of the table. A very nice detail how we think. You can choose the cloth color-free. The total weight of the massive table is 420 kg. Thanks to the assembly instructions, it is possible also to the interested layman and technically talented to build the table with standard tools.
The dimensions of our billiard table correspond to the tournament standards.
Easy to set up, thanks to detailed and illustrated instructions.
Despite the massive (solid wood) design and the high-quality slate is (possibly Tacker end wrench / screwdriver) to perform easily the construction of two people from household tools.
Billiard table Magdalena 8 ft.
---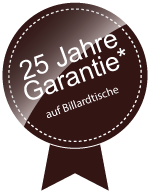 ${ $store.getters.currentItemVariation.variation.availability.names.name }
Finanzierung ab 158,25 € im Monat mit
---