Hochwertigeund massiveAusführungin popular billiard Royal ®
7ft classic pool table 198 cm x 99 cm (7 ft playing surface)

3-part sandblasted, painted, 10% gloss

metal legs

diamond (round) metal (already with the corresponding cloth color based / K-55 rubber)

when ordering the table without cloth you can to string the table even with a cloth of your choice

weight: 360kg

Choose your color free from our different tissues:

Standard consisting of 65% wool and 35% polyester having a weight of 370g / m

ES 45 of Euro Speed ??consisting of billiard Royal from 45% Australian wool and 55% polyester having a weight of 385g / m
ES 70 of Euro speed consisting of 70% wool and 30% nylon with a weight of 370g / m
included: pool table included three-part cover without
Our Billiard Royal billiard table Morpheusist a dream come true. It is made of solid oak. By hand-carved elements of each table is special. With its slate and the cloth the balls run fast and straight forward. So the game for beginners and professionals alike makes Spaß.Die bands are already occupied in the corresponding cloth color and high-quality K-55 rubber. This makes them particularly durable. Diamonds are (circles) of metal on the upper side of the table. These diamonds are perfectly matched to the design of the feet. The total weight of solid stainless diagram is 360kg.Dank the assembly instructions, it is possible also to the interested layman and technically talented to build the table with standard tools.
Easy to set up, thanks to detailed and illustrated instructions.
Despite the massive (solid wood) design and the high-quality slate, the construction of 2 people with common household tools is (open-end wrench / screwdriver if necessary Tacker) carry out any problems.
Buy our billiard Convenient online!
Billiard table Morpheus 7 ft.
---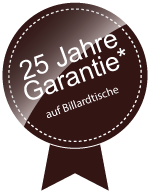 ${ $store.getters.currentItemVariation.variation.availability.names.name }
Finanzierung ab 216,25 € im Monat mit
---